July 2015 - 7 Night Eastern Caribbean (Baltimore Roundtrip) Cruise on Carnival Pride
Grand Turk-Half Moon Cay-Freeport trip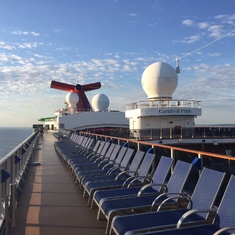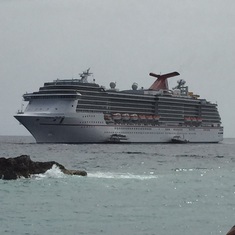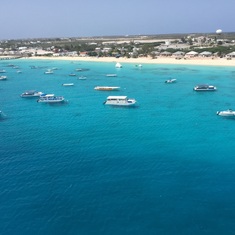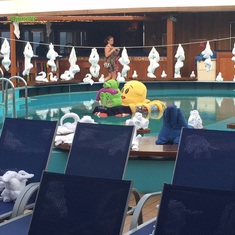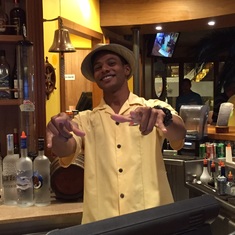 This was our first cruise out of Baltimore, which for us living in the northeast was perfect since we could skip the hassle and cost of air travel into the port. Fourth cruise total, second with Carnival. Overall my wife and I had a great time and met some terrific people along the way. Embarkation and debarkation in Baltimore was easiest we have experienced. We actually got off the ship almost an hour ahead of time. Enjoyed the two days at sea on way down to Grand Turk, nice, relaxing way to start the week.
The Grand Turk stop was very nice. Easy off the ship as they have a deep water port. We opted to skip an excursion and just enjoy the local beach, shops and the Margaritaville restaurant, bar and swim area which is very nice if not a bit pricey for drinks and food. The beach is a bit rocky entering the water but was fine for the most part. Shops were fine, good deals to be had if you shop around enough. We were the only cruise ship in port at the time so it wasn't very crowded at all.
Half Moon Cay, which is Carnival's private island, was the best stop of the three. Beautiful beach that stretches for at least a half mile. Word to the wise...get your debarkation ticket as early as possible in the morning. There is no deep water port at Half Moon Cay, you board a tender to the island from offshore. Depending on weather and conditions of the sea, this process can be time consuming and uncomfortable. If you get a later debarkation number you might not even get off the boat until after 1:00 and the last tender back to the boat is at 4:00. Get off the ship early so you can enjoy the stay. There are plenty of lounge chairs on the beach. If you want a little more privacy, just walk further up the beach. I found that there were plenty of loungers as you walked up the beach and if you want almost complete privacy as adults, there is plenty of space available for that. There are some local vendors, Carnival owned store and a few bars. You can use your Sign and Sail card everywhere except with the local vendors. The Captain Morgan bar is a popular spot but their rum drinks will set you back over $9.00 a pop. Lunch is provided, Carnival has a BBQ area where they will serve you a buffet style meal, nice wide selection and plenty of picnic tables. All in all I wish we had more time on this stop and knew to get off earlier than the noon hour that we did.
Freeport was nothing short of a disappointment and not just because it rained hard part of the time there. First, it's a very short stop...arrive around 9:00, back on the ship at 1:00. The port itself is in a commercial area...oil tankers, container ships etc...there is no where to go except for a make shift market area full of cheap local souvenirs. If you want off the ship, book an excursion. We booked a beach excursion, the most basic offered...no drinks or food included. The beach was less than impressive, made worse with the rain that moved in. Just as an FYI...the beach excursions that offer the all inclusive drinks and/or buffet all come to the same place. Personally I didn't feel the need to pay extra for drinks and food when the stop is so short. Buses start leaving at 12:15 since the ship has an all aboard at 1:00 PM. Plenty of time to drink and get lunch back on the ship. There are some local vendors set up there but nothing spectacular offered, standard cheap T-shirts, bags, trinkets, etc.... Basically we were happy to get back on the ship.
Entertainment on the ship was terrific. The singing and dancing group was very good and overall put on some very entertaining shows. We enjoyed the Punchline Comedy Club most of all. Of the four comedians we had on the ship, three of them were terrific and quite honestly the two that joined the ship in Freeport were excellent. Check out the karaoke night if you want some good entertainment...we saw some very talented people get up and belt out some tunes in front of a live band. It was not an amateur hour by any means.
Food was very good, excellent sometimes at dinner. The main buffet is overall good with a broad selection at breakfast and lunch. Guy Farini's burger bar and the taco/burrito bar are nice additions. For those who have not cruised before, just be prepared for crowded conditions during the breakfast and lunch rush hours.
Best bar...the Red Frog Pub. they have some bar games set up and usually had the best crowds, entertainment and staff that we encountered.
One last suggestion. If you have interest in Serenity, the adult only area on the Lido Deck...get there early to claim a spot. There are plenty of other adults thinking the same thing and it is often impossible to find a couple lounge chairs to claim your own unless you are an early riser.