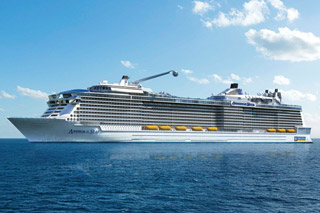 June 2016 - 5 Night Bermuda (Cape Liberty Roundtrip) Cruise on Anthem of the Seas
Poor Service
We've cruised with Royal Caribbean in the past and thought it would be nice to try one of their newer and bigger ships with updated amenities and fine dining etc.  However, we thought the Anthem of the Seas was too big and there wasn't enough staff to help the passengers.  Many of the crew members we came across were unfriendly (not very smiley or welcoming), unlike other cruise ships we sailed with before .  Other passengers we met on the ship had similar complaints.  Some of the featured shows were not that great either, ie: The Gift, the storyline was didn't make any sense and the choice of music did not go with the story.
The first day was the worst when we saw the MOB of people waiting on line for the customer service area.  We purchased the drink package online and was told by one of the servers at La Patisserie that we can obtain our souvenir coke cups from the various stations selling drink packages.  When we went over to the guy selling the drink packages in front of Boleros inquiring about the souvenir cups, he told us that we DO NOT get them at his station; he then proceeded to speak in a REALLY LOUD TONE asking me WHO TOLD YOU to come here because that's not true.  He then told me to point out who is the person who told me this information.  The whole situation was unpleasant and unnecessarily confrontational.  I think Royal Caribbean needs to train the staff on how to better serve the customers. 
When we tried to reserve seats for one of the Cabaret Spectra shows, we were told that the show was totally booked and no tickets were available. We were signed up for the Dynamic Dining Classic for the 8:15pm seating, but was told previously that we would be able to make changes.  We WERE NOT told that ANY change to our reservation would CANCEL the rest of our reservations and by that time, most of the passengers already had reservations to the various restaurants. 
Although the ship was big and new, there weren't that many FUN things to do other than go to the pool.  They advertised that they have bumper cars, but it's only open for  limited hours.