October 2013 - Carnival Breeze to Caribbean
totally "suite" Carnival Breezin' cruise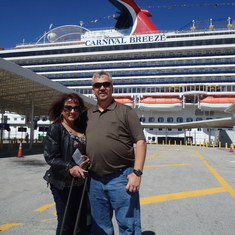 To celebrate my boyfriend's special birthday, we took the 6-day Caribbean cruise on the Breeze Oct.6-12, 2013. Fabulous time all round. My 3rd cruise, his 1st and surely not our last. We enjoyed so many of the fantastic events and features of Carnival's 2012 launched Breeze.
The variety of activities well into the night, had us on the go...dancing, being entertained or simply racing up the stairs all day long.
The choices of restaurants....hmm..we ran out of days before we got to try all that was offered. Darrell promises to get to Guy's Burgers sooner than later. I say, "ok, let's do it!!" lol
One of our favourite new "traditions" was a pizza around midnight followed by a round of mini golf on the highest point of the glorious ship at 2 a.m. during our first night. We felt like kids!
Our Ocean Suite was superb. Darrell loved the towel animals that found themselves on our bed each evening....I promptly moved them to the couch across the room. 3's a crowd!!
The only issue we will report was our Cabin Steward, Sergeii. My previous cruise experiences had the designated cabin steward show up daily, enquiring about our stay and if we had anything that concerned us. We had nothing to report about our accommodations but we were very disappointed in the fact that the only couple of times that we ran into Sergeii was in the hallway as we crossed paths. I believe he should have been more visible to have touched base with us. I will say that the additional "envelope" that we left in the room was definitely for housekeeping and not for the Sergeii.
We are concerned that with his lurking around our room at the time of our vacating the Ocean Suite, he might have taken the "envelope" intended for housekeeping and they would have missed out on our monetary appreciation of being on top of things during our stay.
We are looking forward to doing this all over again....look out waterslides, we are coming back!!
Denise & Darrell