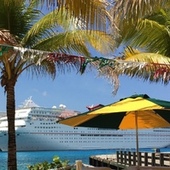 Dbldelites
New Oreans
Joined 07/2016
I am happy to up date my bio here and say I'm no longer a "first time" cruiser. I enjoyed my cruise and I'm hooked! I now look forward to sharing the experience with my family in the near future. Having a port here in New Orleans should make it easy to do, just not cheap! lol Cruising is just the best, which I'm sure you all already know, I'm just sorry it took me so long to experience it! I look forward to sharing my cruise stories with all of you AND reading about yours!!!! So get cruising!
Upcoming Cruises
Past Cruises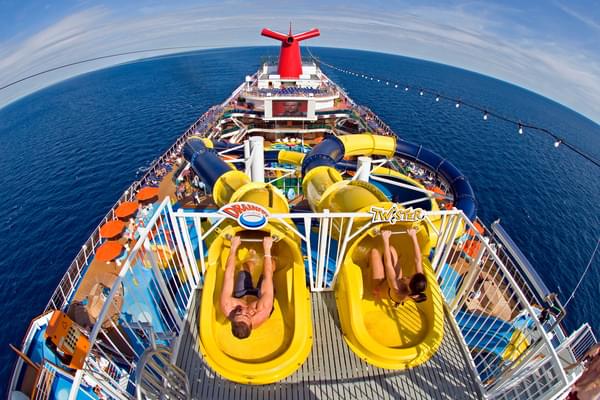 November 2017 - 7 Night Eastern Caribbean (New Orleans Roundtrip) Cruise on Carnival Dream
Living the Dream on the Carnival Dream!
This was our "Family Thanksgiving Cruise" and it was filled with wonderful memories! There were a few hiccups, but nothing that will diminish my wonderful memories! I have tons of pictures and several stories to go along with them. Just so I won't get the "Cruise Blues" I'm ready to start planning my next cruise! I admit...I'm addicted! Happy Cruising Everybody!!!!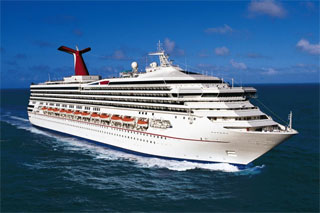 September 2016 - 4 Night Western Caribbean (New Orleans Roundtrip) Cruise on Carnival Triumph
This was my first, but it definitely won't be my last!!!!!!
I enjoyed it so much it will be hard for me to name everything!  Perhaps being my first cruise I don't have a lot to base things on, but I just had an over all great time.  The cabin service was great!  We were celebrating my girlfriends 60th birthday and she received gift certificates to use on the ship which was totally unexpected and a very nice treat!   Our Steward was very nice and friendly always addressing us by name.  How they do that STILL amazes me! Hey and who doesn't love the animal towels???
We enjoyed all the shows that we saw.  The performers were great!  Very talented!  At home you'd pay high prices to see shows like these.
I highly recommend having Brunch at least one time.  It was very enjoyable, the food, as well as meeting new people your table.   Lunch on other days was always good too.  We usually chose to eat at one of the walk-up stations or Guy's Burgers, which if they have one of those on your ship, THAT is a must!!!  So I can't comment on the buffets, we skipped those.  We chose late dining and it was always very nice and  good.  We were sailing with a large group so we had lots of fun and they had seated us at the VERY back of the ship.  I guess they figured we might be a little noisy. lol   Service was a little slow and off at times...several times, but we just dealt with it in the tips.
The highlight of my cruise was my excursion, which was to swim with the Dolphins!  It was amazing and I loved every moment of it and I want to do it again!!! 
I will say my only disappointment were that I hated the Muster Drill.  I know that no news. lol  I do understand that it is necessary, it was just SO HOT and people were just taking their sweet time getting to where they needed to be while the rest of us stood there forever.  Tossing them over board just kept running through my mind. lol   Also, the hair dryer was a joke! I will bring my own next time.   Last of all......4 days is not long enough!!!  I was just getting in the grove and they made me get off the boat
   So I just know that my next cruise, that I'm already looking into will be a 7 day cruise.
For all the "iffy" stuff before I read about sailing on the Triumph, I have to say that I didn't see one single problem or concern.  She/He is a fine ship in my eyes!  She/he gave me the cruise of a life time and I'll always remember it!!!
Cruise Tips
We did a day at the beach excursion in Freeport and really enjoyed it. I took some pictures on my other camera and will have to post them later. We REALLY enjoyed Freeport! I did some shopping after the beach and it was a pleasant experience.
We did took the tour bus around and got off to have lunch by the pier. Of course I had to have some Key Lime pie! The Key Lime Pie was my favorite, I can not lie. The tour was interesting to hear about the town, but it got long at times.
I stayed on the ship. My husband and kids went on an excursion and had a nice time. It was going to be too much climbing and walking for me. I had a relaxing day on the Ship.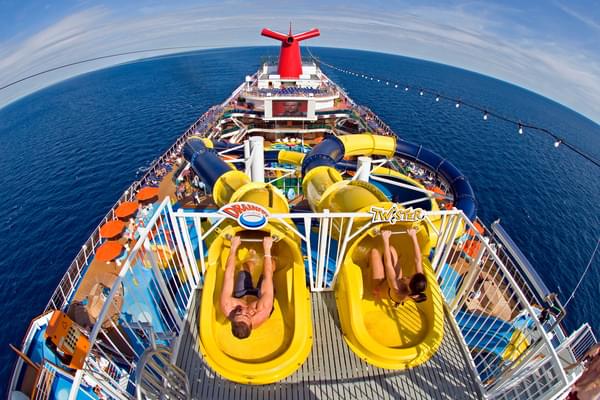 Carnival Dream
Be prepared to enjoy yourself, but do your homework beforehand! It's a beautiful boat, with beautiful people working on it to serve you. Remember to treat them with respect.
Swimming with the Dolphins on our Excursion was the highlight of our visit. We only had one day, so I hope to come back again and see more!
I live here so I'm biased. It's a fun city! Lots to do and see. Just do your research!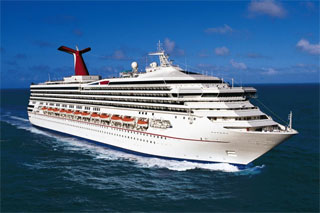 Carnival Triumph
I had done a lot of research before my first cruise and always heard that the walls are metal, to bring magnetic hooks to hang your lanyard etc. The walls are not metal on the Triumph. The front door is however! We were able to hang a sign on our cabin door to mark it so that it was easy to find.