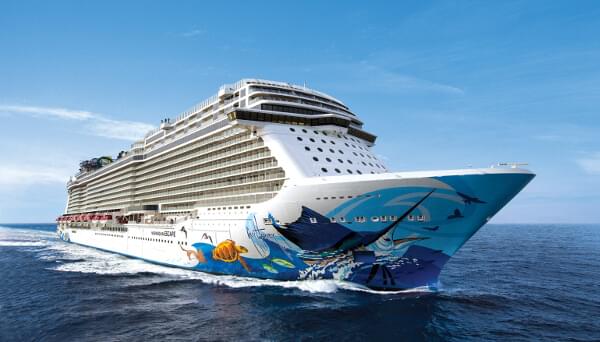 February 2016 - 7 Night Eastern Caribbean (Miami Roundtrip) Cruise on Norwegian Escape
Escape from Escape while you still can
We are a family of 5 - two adults and children aged 5,8 and 9.  This is a fairly lengthy review that is divided into sub-headings Embrakation, Stateroom, Service, Crowds, Smoking, Kids Club, Fitness Center, Complimentary Dining, Specialty Dining, Activities, Vibe Beach Club, Entertainment and Disembarkation.  If you find this review to be too long to read the whole thing, you may want to scroll down to parts you are interested in. 
This was our fifth cruise and our second Norwegian Cruise.  We went on the Getaway a year ago and we had a great time and booked another Cruise with Norwegian.  We would not go on another Norwegian Cruise and we would not recommend the Escape.
Embarkation:
Our embarkation experience is best described as a stampede.  There is an adults only are on the ship called Vibe and you can buy a Vibe pass for something like $100 for the cruise.  However, there are only 70 passes available and they are high sought after.  We lined up to be first on the ship so we could buy the Vibe passes and when the gates opened, it was seriously like a stampede of migrating wildebeasts.  People were pushing and shoving.  Someone in a wheelchair nearly got toppled over by the stampede.  Someone is going to seriously get hurt one of these days.  I was in the very front of the line and 4 or 5 people pushed ahead of me, but by the time I got my Vibe passes they had already sold over half of them.  First, one person can buy an unlimited number of Vibe passes, back to back cruisers get first dibs and those in the Haven can have their concierge purchase the passes before they actually embark.  So, after lining up and surviving the stampede unscathed, your chances of actually getting a Vibe pass are next to none.
Stateroom:
We had a family size stateroom. All of the family size staterooms are on the deck where Splash Academy is (deck 3) which is the kids club.  The room was a good size and the storage space was more than adequate for a family of five.  The TV was in the weirdest spot - in the tiny hallway between the sleeping area and the bathroom.  Who would put a TV there where you can't see it lying in bed.  Although, who actually watches TV on a cruse anyway.
Overall Service:
This is where things REALLY lacked.  The service was well below mediocre.  It appeared that many staff treated your request as a burden, from asking for a drink from the waitstaff to making a simple request of the cabin steward.  The staff seemed apathetic, uninterested and there was a general sense of disenchantment.  I asked some of the staff if they worked on other Norwegian ships.  Almost all of the staff I asked had and worked on other ships and without hesitation confirmed they liked working on the other ship(s) better than the Escape.  Many went as far as to say they hated working on the Escape.  I think when Norwegian changed ownership there was a massive culture change within the organization that has impacted employee satisfaction.  That in turn has a major impact on a guest's experience.  When we went on the Getaway, the staff were awesome. They were happy, friendly, helpful and looked like they were having a good time too.  On the escape, it was the total opposite.  I can't stress enough the impact the staff have on the ship culture, passenger enjoyment and the overall cruise experience.  Norwegian scores a failing grade on service.  Also, customer service was just dreadful.  The desk staff honestly couldn't care less about a problem or issue and tried to solve everything by sending chocolate covered strawberries to your room.  These are readily available in the buffet.  Anyway, I found customer service to be completely unhelpful and the desk staff were void of personality and sported an "I don;t care" attitude. 
Crowds:
This was a major problem on the ship.  MAJOR!!  Norwegian built this enormous ship but the extra space (compared to the other Breakaway class ships) was used to accommodate more passengers.  The common areas (lounges, pools, bars, restaurants) weren't expanded.  As a result, it was crowded everywhere.  You couldn't find a deck chair or a seat in a lounge or at the buffet.  Every space was wall to wall people.  Our kids like to go to Spice H20 at the back of the ship for an outdoor dance party.  It was just too crowded - to the point where you could barely move.  We tried going there a couple of nights, but just left because it was over crowded.  If you don't like crowds, this isn't the ship for you.
The elevators were TERRIBLE.  They were always full.  Sometimes you had to wait 8 or 9 elevators to get on one.  They stopped at every single floor.  It seriously could take 10 or 15 minutes to get from deck 3 to deck 16.  It was faster to walk up 10 or 12 flights of stairs than take the elevator.  If you get stressed out waiting and waiting or by stopping at very single floor, this may not be the right ship for you.  There just aren't enough elevators to accommodate the number of people onboard.
Smoking:
If you're like me and find cigarette smoke absolutely disgusting, this may not be the best ship for you.  It was our biggest criticism of the Getaway (and we really liked our Getaway Cruise).  A big reason we booked on the Escape is that Norwegian included in their marketing information information that there were far fewer smoking areas.  On the Getaway, the smoke from the Casino permeated through all decks 6, 7 and 8.  Norwegian promoted that the Casino would be entirely non-smoking.  The policy was later changed - I guess enough slot machine coin poppers that smoke complained about the non-smoking situation.  Norwegian would rather have smokers inside popping coins and losing money than outside on a deck smoking.  Who cares about subjecting all the healthy non-smokers to wafts of filthy disgusting second hand smoke.as long as coins keep going  in the slot machines, right?
Kids Club - Splash Academy
If there is one thing that Norwegian does right, it's kids programming.  I can't express how much our kids loved Splash Academy.  My youngest cried on the last night because he was going to miss the Splash Academy.  The staff there are all awesome.  Two of the staff (Elmo and Doughnut) were on the Getaway, so our kids were super excited.  The physical space of the kids club is really nice and is much nicer than the kids camp on the Getaway. Norwegian gets top marks for kids programming, which is second to none.  Something to note is that the kids club staff are not included in the tip pool.  None of your gratuities goes to these staff.  We tipped the splash academy staff separately....they really deserved it. 
Buffet:
It was very crowded all the time.  I felt a little bit like a pig at a trough trying to wedge myself in to get a morsel of food.  The food was so-so.  Some things were good and others pretty bad.  There was good variety and options changed daily.  The quality of the food at the buffet I thought was way better on the Getaway and that it had gone downhill on the Escape. I give the buffet a barely passing grade.
Complimentary Dining - a la carte:
Taste and Savor are the two main complimentary dining areas that are open for breakfast and dinner.  It's the same restaurant - just separate locations.  I ate there a few times for dinner on the Getaway and it was okay.  However, on the Escape I had dinner there once and it was terrible and never went back.  I also had breakfast there once and it was terrible and I never went back.  The food was gross, the service was terrible and it took forever for the food to come out. Taste and Savor.....epic fail.
I really liked O Sheehan's on the Getaway and there was an O'Sheehan's on the Escape.  However, it would be more aptly named "O'Shi-ty's"  First of all the food took literally forever to come out, even when it wasn't busy.  No exaggeration....sometimes over half an hour for a hotdog.  When the food eventually came out, it wasn't always what you ordered or the fries we soggy or the food was under or over cooked.  A restaurant that I really like on the Getaway was a complete disappointment on the Escape.
I didn't try Jimmy Buffet's Cheeseburger in Paradise.  In all of the promotional literature that Norwegian put out before we booked, this was supposed to be a complimentary restaurant.  However, when we got onboard, it was all of a sudden a paid restaurant.  WTF??  Apparently it was so popular that Norwegian figured they could make a few extra bucks and changed the restaurant from complimentary to paid.  Poor form, Norwegian.
Specialty Dining
I ate at the Brazilian steakhouse one night and it was very good.  Good food, good service and overall good experience.  The Pub Belly Boys restaurant was awesome.  I ate there twice. Amazing food and fantastic service.  If you're booked on the Escape and can't get a refund, make sure you you eat there.  I also ate at the Jose Garcas restaurant, which was also very good.  Based on my experience, specialty dining gets a high passing grade.
Ship Activities
There is lots to do on the ship...pools. waterslides, ropes course, mini golf, basketball etc.  I even did the ropes course this year....but only because my 8 year old daughter did and I didn't want to look like a complete wimp in front of her.  The activities are great, but it can get so crowded.  Deck chairs were a rare commodity and the pools and hot tubs were sometimes wall to wall people.  People would save upwards of 7 or 8 deck chairs, so there were a lot of empty deck chairs with towels on them.  I don't know if there is a policy on saving chairs, but if there isn't there should be and if there is, it's not enforced.   
Fitness Centre:
The ship has a very nice fitness centre with lots of new equipment.  Again, it was really crowded.  I went at different times of the day to try and avoid the crowds, but it was busy there all the time.  I was still able to access the machines and get my workouts in.  There is also a side room where you can do some floor work like push-ups, sit-ups, burpees, mountain climbers etc.  I don't think people knew about the side room so it was nice and quiet in there.
VIBE
This is the adults only area that if you're lucky enough, you can buy a pass for once you're onboard.  It's really nice and it's worth the price....HOWEVER....there were lots of people in VIBE without VIBE passes.  Your card unlocks the door to Vibe, bu the card reader kept breaking.  The only other way into vibe was to walk through one of the bar areas.  There was no security and bartenders weren't checking for Vibe passes.  There are supposed to be enough deck chairs for every person with a Vibe pass, yet there were times when all the deck chairs were full and we couldn't get a deckchair.  We complained because this was something we paid extra for and after offering us chocolate covered strawberries (the universal fix for every problem on the escape), they eventaully refunded half our money back for the Vibe passes.
Entertainment:
This is an area where the Escape scores poor marks.  We liked the entertainment of the Getaway, but the entertainment paled in comparison on the Escape.  I will say that having more passengers on the Escape over the Getaway made it considerably more difficult to book shows etc.  I saw the two broadway shows After Midnight and Million Dollar Quartet.  After Midnight was a serious snoozer.  Million Dollar Quartet was ok, but  the guy who played Jerry Lee Lewis was spectacular.  Both shows catered to a 55+ audience and that was disappointing.  On the Getaway, they had Legally Blonde and that's a good show that appeals to a wider audience.  For example, I really like it and so did my 8 year old.  The comedy was so-so - certainly not as good as it was on other cruises.  Again, it was very crowded and it was hard to get into the show.  The remainder of the board entertainers were mediocre.  Dualing pianos was good, but again it was super crowded.  There was also a decent musical performer in the brew pub at night. In comparison to other cruises I've been on, the Escape gets a failing grade on Entertainment.
Disembarkation:
A TOTAL disaster.  We had early debarkation because we had a flight to catch.  They pile all the people with early debarkation on the 7th deck.  However, the waiting area is outside the elevator banks and it was so busy that you couldn't even get off the elevator on deck 7.  I mean that literally.  It was wall to wall people and there was no room to get off the elevator.  People were pushing and shoving.  I even saw a fist fight break out.  When it's finally time to get off, they take you on a crazy path that walks you through the entire 7th deck with all your luggage.  It took us nearly 45 minutes to get off once the line started to move.  It was crazy!!
Overall:
The Escape is a beautiful ship.  There is lots on the ship and lots to do.  However, the poor qualify of the service and the complimentary dining really brings the overall experience down to a sub par level.  The mediocre entertainment also makes the Escape a tough one to recommend.  The size of the common areas compared to the number of passengers seems way out of proportion and results in large crowds, long wait times and difficulty in making reservations.  The kids camp and kids activities were spectacular.  The specialty dining options were also very good, but they come with a price.  There are lots of options when it comes to a cruise and the Escape just doesn't provide the value and the experience you can find on other cruises..