May 2013 - Oasis of the Seas to Caribbean - Eastern
Oasis of the Seas best ship in the world to cruise!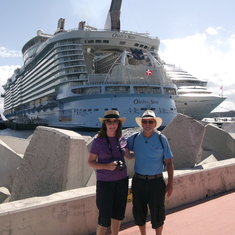 This was my husband and my first cruise so we chose the biggest ship in the world of course. Everything was so easy and ran so smooth from getting transportation from our hotel to the terminal. The entertainment is fabulous Ricky is the best activities director ever! The shows are top notch. We took a tour of the Bahamas, St. Thomas and St. Martin which we felt very safe and truly enjoyed our excursions. There are endless things to do all day long from morning to night you will never be bored not unless you want to be. We chose My Time Dining and we enjoyed the restaurants that were available to us to eat at. There was such array of food to choose from. Our housekeeper Lily kept our room clean twice a day and always had a bucket of ice available to me which I requested. The crew on board went way out of their way to help you in anyway that they can to make your vacation the best it could be. I would like to take my next cruise again on the Oasis of the Seas, but this time I would like to try the Western Caribbean. A week really isn't long enough to explore all the things that are available to you while on vacation.