November 2015 - 7 Night Eastern Caribbean (Miami Roundtrip) Cruise on Norwegian Escape
Good but not great...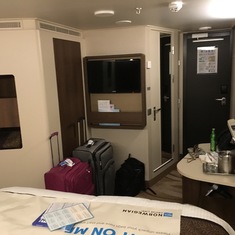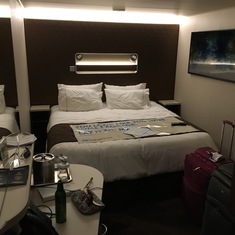 This was my first cruise, and after the trip I'd say it didn't live up to the hype. Other than the ship being new and beautiful I wasn't impressed with the service, food, or availability of entertainment.
Ship:
The ship itself is pretty amazing. Everything is shiny and new and is top notch on style and quality. Bathrooms were pretty small in terms of how many people could use them at once (leading to waiting or heading back to the room) and placement wasn't always ideal (sometimes a far walk to find one). Most things are relatively easy to find but there were a few that you had to walk around before finding.
Pool:
Pool was always packed and finding a chair took some time. There was always music or activities at the pool which made things interesting and fun. Pool bars are always packed so head to the bar prior to finishing your drink. Supposedly they put pool towels in your room but we never had any, had to check towels in/out every day which was slightly annoying.
Room:
Had an interior stateroom and it was nice. The bed took up pretty much all the room, but being in bed is 95% of the time spent in the room. Bathroom was adequate and shower had great water pressure. We didn't get any towel animals in our room until we asked about it on day 5. Seems trivial but what's the deal?
Dining:
The buffet was always packed (like everything else) and sometimes it took two trips around the room to find an adequate table. Selection was good but food was nothing special, typical buffet style food. There was a seafood night the second night which we had no idea about until after it was over. Would have loved to enjoyed the seafood buffet and was highly upset it was better posted or announced.
the main dining rooms were very nice, but the service was poor. Always waiting extended times for drink, placing orders, and even bread/butter. On one day we waiting about 15-20 minutes for our waiter just to place a drink order (gave us water and disappeared). Menu was decent but the "special" every day was some form of steak. would have loved to see more seafood options on the menu. I was told from others that cruised before that things like lobster were offered as part of the dining experience, but this was extra. $20 isn't a horrible price for 1 and a half pounds of lobster, but it isn't great either. Portions were small so had to order multiple items to get a good fill.
Drinks:
Drink were well mixed most of the time, I recommend finding a bartender that makes drinks to your liking and sticking with that guy/girl. The pourhouse was very nice and had a great selection of beers, even got to watch some football while on board here! Places like the wine bar and mojito bar aren't included in the drink package, and also don't honor the price minus $15 as stated in the drink package. I believe the mojito bar was 20% off the price if you have the drink package, so expect to pay $10 or so for a mojito.
Shows:
The shows in the atrium were excellent. They were very entertaining and funny, but good luck getting a seat. We showed up an hour early to the show we wanted to see and couldn't get a seat. Caught one of the comedy shows and it was funny. The duelling piano bar is a lot of fun, but you hear the same songs being played night after night. The piano team were great entertainment though.
Excursions:
We booked an shopping and beach excursion for St. Thomas and stood outside the ship for an hour before finding out the beach was closed and excursion cancelled. You don't get that much time in port, so this sucked. Ended up booking the Kon Tiki party boat which was a lot of fun, but alcohol is extra! Took this to honeymoon beach which was so pretty, an hour or so there just wasn't enough.
Dolphin experience in Tortola was amazing. Had a great time and they were extremely helpful with planning a proposal to my now fiance. Even without this it was a blast and highly recommended.
Nassau was okay, wasn't too impressed. Rented a scooter to cruise around the island which was nice so we could see what we wanted and stop where we wanted.
Staff:
Overall okay. They don't go out of their way to make your trip extra enjoyable. As mentioned in the dining rooms service is not great. Bartenders are attentive for the amount of drinks they serve but don't expect extra hospitality. Pool and main areas have 1 or 2 waiters walking around at a given time. Only one seemed good (nannete who server the pool and atrium) and she was great! If they were all that good it would have been a better experience.
Final thoughts:
As the title says, good but not great. Since this was my first cruise I don't have a lot to compare to, but from the other experienced cruisers I know this cruise fell short.