April 2016 - 5 Night Bahamas (Port Canaveral Roundtrip) Cruise on Carnival Sunshine
Cruise=Best Vacation Ever!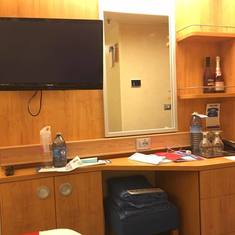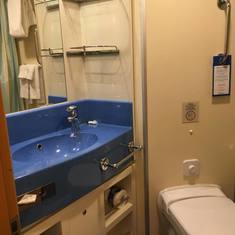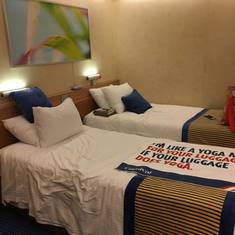 I went on my first cruise my senior year of high school and from the second I got off the first one, I wanted to go on another one. So now that I just finished with college and found a job that allowed me to take a much needed vacation after 4 years of college, I went on this cruise with a friend and we had THE BEST time!! The remodel of the Carnival Sunshine is absolutely beautiful. There are so many good things to say about it that I could sit here and type all day. The things I, personally, loved the most were:
- The variety of Dive-In Movies and availability of blankets to snuggle up with during the film! How cozy and cute!
- ALL of the food. Whether it was in Lido or the Dining Rooms it was delicious.
- Your Time Dining. This option is so convenient because it allows you to go to dinner when you're ready and won't interfere with any activities you want to do. It was the perfect option for us. The first night was a little confusing because you have to go to the Ocean Plaza on the 5th floor to check in then to the Sunrise Dining Room on the 3rd floor to eat, but once you figured it out it was no hassle at all.
- Guy's Burger Joint. It was awesome that these burgers were included in the price (and delicious!)
- The Carnival HUB App. IT'S FREE TO USE ONBOARD!!! Most people didn't realize that. While I didn't want to use my cell phone much (other than for music) during vacation, this app was extremely useful and didn't make me lose the "I'm on vacation" vibe. It was so easy to view the schedule for each day and favorite the activities you were interested in. There's a favorites tab, so once you've gone through all the events, click over to that and BOOM, there's your schedule for the day! You don't have to worry about charges from your cell phone carrier either because the app works through the ship's Wi-Fi (for free) while your phone is on Airplane Mode. Love, love, love!
- Half Moon Cay. Out of all the ports, this was my favorite. It was absolutely stunning. The water was so clear that when we swam out as far as we were allowed (probably 15 feet deep), we could still see the bottom. Insane. The day was so relaxing and since it's Carnival's island, they had food for you so you didn't have to get back on the ship. Loved everything about it.
- Epic Rock Show- This is the top rated show in the Carnival fleet--and for good reason. It was spectacular!! They sing songs you'll know and they sing them well! The technology is amazing, too! All of the shows onboard were good, but this one blew me away.
- Cruise Director Donkey- he's awesome, Australian and did an amazing job!
I hope that gives you enough to go on because I really could type all day. Definitely recommend this cruise to anyone looking to get away. I would hands down do this exact cruise again.