December 2016 - Azamara Journey to Other (Asia/Africa/Middle East)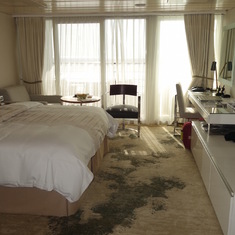 We've been on Azamara before and we like the smaller ship experience. There are no crowds, it's easy to get around the ship, and the food is excellent. The entertainment is more cabaret style than big productions, but equally entertaining. The Journey was recently refurbished so everything looked new and in good condition. The entry level suite far surpasses any mini suite we've had on other cruise lines.
We went to Hong Kong, Viet Nam, Thailand and Singapore. The life styles there are very different than western countries. We visited a lot of Buddhist temples and shrines. The local food is also good to try, as long as you have someone with you that can help you choose wisely. English is also not commonly spoken in Viet Nam and Thailand so having a guide fluent in English can be helpful. Singapore and Hong Kong are large modern cities where English is spoken everywhere and it is easy to get around on your own.