September 2015 - 8 Night Eastern Caribbean (Port Canaveral Roundtrip) Cruise on Carnival Sunshine
It was fun but not the best we ever had with Carnival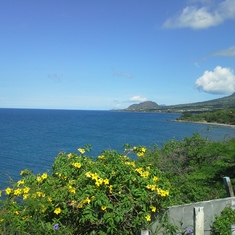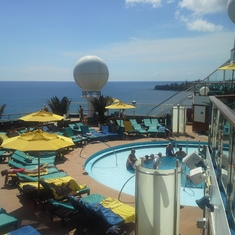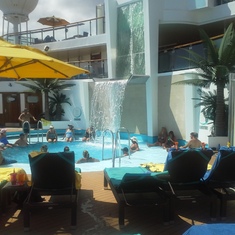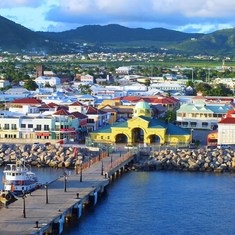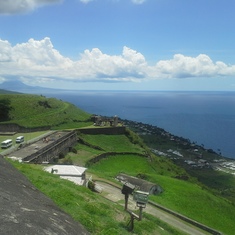 We are Platinum members and have tried almost all the newer ships. We found this cruise particularly appealing for it's one extra day. While St.Kitts and Grand Turk were magical ports of call San Juan PR was terrible. It simply had very few available tours of interest for older couples. We'd been there before so this time a slow walk around the port was all we wanted to do. The ship itself was good.The spa lacking compared to the C.Dream. I was disappointed to have the dry room referred to as a warm room for reading and meditation. When the spa attendant told us that I said rubbish.We'd been there before and it was hot.Not room temperature after 5 days. Who reads in a confined room? Food was good.Movies on the Lido deck a great way to end an evening. Late seating a problem.I know it is hard to schedule everything but plainly eating after 8 PM has you missing most of the shows to completion , karaoke and often the bar entertainment. We don't mind eating late.Just felt sad we had to decide main show or comedy. You can do the PG comedy shows if you want to see the main shows.
Found the Maitre D to be unresponsive. As past cruisers we were very specific what we wanted. A group table.Instead we got a table for two in such a high traffic area the waiters kept bumping my seat from behind.I insisted we be moved and they did a day later even though 1/3 of the other tables were in non use.Get to a great table assignment and met new friends. Our server became ill after one night and the replacement forgot almost everything. It was our 40th anniversary and I hinted for several days about a cake. On our last day I had to speak up.All apologies but no real remorse.What galled us was neighboring tables has Birthday greetings, cakes and a load of attention.
We didn't even get an indication the Maitre D cared even though I confronted him direct as we left that last dining night. Beyond that all was decent.Not as exciting as last years cruise but still OK.