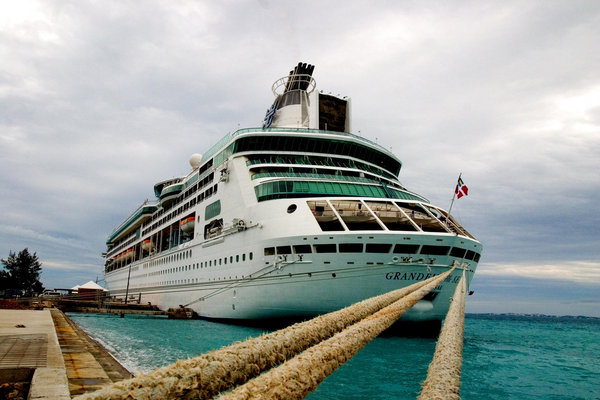 Grandeur of the Seas
Sail Date: May 30, 2014
     My husband took this cruise as a belated honeymoon. This would be my husband's first cruise. We arrived at the Port of Baltimore around noon.  It took us about 45 minutes from walking through the port entry to walking into our stateroom.  We were warmly welcomed by the crew when we walked aboard, were informed that our rooms were ready and that our buffet lunch was available on the 9th floor.  Wonderful!  We went to our room to drop off our carry on luggage and freshen up prior to going upstairs.  The ship was bright and sparkling; filled with excitment.  Our room was clean and welcoming.  The bathroom was larger than I had expeccted.   We had a delicious lunch and rest before reporting to our mustering location prior to leaving port.
     We had day after lazy day, doing as much or as little as we wanted to.  There were activities and shows scheduled almost non-stop every day, but we needed a break from the hustle of life and just took things easy.  Our stateroom attendent Manny took great care of us, constantly straightening our bed and bringing us ice.  We had wonderful servers at all of our meals.  I would especially like to recognize In (not Out) and K (they called themselves the Bali boys as they are from Bali..LOL) who were looking out for us at breakfast and lunch (in the Windjammer) and then gave us wonderful and more formal service in the Great Gatsby (my time) dining.  Our wish was their command.  The Matre d would greet us by name and seat us at our preferred table and then check back with us during the meal to make sure that all was well.  We were pampered and never left the dining room hungry. I want to point out that they change the menu daily both on the buffet and formal dining menus.
     My sister and brother-in-law made it even more special by ordering a romance package to be waiting for us on our arrival.  This included a bottle of non-alcholic chapagne (we are non-drinkers), a tray of canapes and petite fours, a full breakfast in bed, and then a formal photo and silver frame.
    The cruise line offered top quality entertainment. We watched live entertainment every night. The cruise ship entertainers were very talented and a Las Vegas entertainer was brought in, as well as comedians from Nashville and Balitmore.  They had a "Love and Marriage" game show that was SO funny!  The cruise director and team were entertaining and energetic the entire cruise.
    We had a wonderful time and my husband is already gathering friends to come with us on our next cruise!!