September 2014 - Queen Elizabeth to Europe - Mediterranean
Queen Elizabeth was a wonderful experience. Not quite as luxurious as I expected.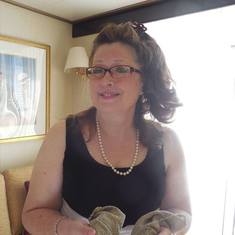 My friend and I recently took the 1 week Mediterranean Cruise from Rome - Florence- Monaco- Toulon-Barcelona-Rome. While the Queen Elizabeth was a very nice ship, excellent appointments and amenities, excellent service, great food, I guess our expectations were of even more luxurious cruising than we had. We have sailed Celebrity, Norwegian and Royal Caribbean and thought the Cunard would be at the top of the luxury lines. We were disappointed. There is definitely a "first class" for those who can afford it, the grill suites. The rest of us were excluded from their restaurant, couldn't even take the elevator to their level 11. Felt like we were back in the 1910's on the Titanic. We love the formal elegance of assigned dinner time and seating, the formal nights, the diversity of passengers fit our "niche market" perfectly. Many wonderful people from Britain, Canada, Australia, U.S., Japan, etc.
We had a terrible experience when we docked in Toulon, France and I don't feel like Cunard handled it at all. We did not have an excursion planned, it was a rainy, miserable day and most people stayed on the ship. We took a cab into town, where at a local mall, a strange man came up to my friend, said something in a language we did not understand (not French) and made a slicing motion across his neck, suggesting he wanted to "behead" her. He did it twice. There was absolutely no security or police presence to report it to, we left immediately. When we returned to the ship, I tried to report our experience to the purser and asked for the Director of Security to report this incident. We were basically "blown off" and told there was nothing they could do since we were not on an excursion. I understand you go ashore at your own risk, but we were not referred to someone in higher authority and our concerns for future passengers safety in this port were ignored. It really scared both of us and left us with an unpleasant experience both in Toulon and Cunard's handling of our concerns.
Our balcony stateroom was comfortable, attractive, but less areas to place personal items than on previous cruise lines we had sailed. The entertainment options in the evening especially left a lot to be desired. No one "folded towels like animals", there was no brunch with carved fruit like we have had on previous cruises. We missed those luxuries and our expectations for Cunard were set too high for what we experienced. We did get our money's worth as I bought our tickets on a discount site, but don't sail the Cunard expecting total luxury, at least the Queen Elizabeth. I guess the Queen Mary is their top of the line ship.