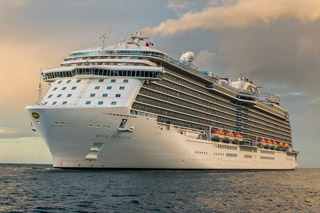 Regal Princess
Sail Date: July 01, 2014
somewhat disappointed with Regal Princess
somewhat disappointed.  Ship was so crowded and passengers acted like animals in the horizon court eating areas.  Part of the problem is that there are so many food stations that you have to constantly going from serving area to different serving area in order to complete your plate.  The areas need to be better organized and space not as wide whereby people can come at you in different directions with their plates in hand bumping into you.  I couldn't stand to go to the food courts and tried to go to the dining rooms for meals as much as possible to avoid the rush but dining room meal times are limited and when going off ship nearly everyday I had no choice but to use Horizon court.
Staff also needs more coaching in areas of table clean up and setting up in horizon courts areas as they seem to do a lot of socializing with each other.
My room steard provided excellent service but for a 13 night cruise my sheets were only changed twice, what happened to the every 3 days???
Entertainment was nice, the ships production company put on excellent shows but I was put off by what was to be 'family' entertainment.  for example one comedian, Irish, went beyond what I thought was 'family' rated always talking about male parts and sex.  Also making jokes constantly about the Irish and their alcohol problem.  I had my 14 yrs old daughter with me and I felt that this type of entertainment which such ethnic sterotyping is exactly not what you want your children to repeat.
also some of the social staff picked on members in the audience calling them name and just didn't know when to draw the line between what was insulting and what was going overboard.
I think that there are more staff people needed for cleaning of ship and serving in the food courts.
Excursions are quite expensive but they did organize us and got us moving on to the buses quickly.
There is constant selling of everything water when leaving ship to drinks at dinner etc.  this is how they make their money but it is neverending.
I would cruise Princess again as I have sailed with them and other lines and find them to be superior to the others.  But I will say that I was somewhat disappointed that the cruise was not the top notch service that I usually find with Princess.