July 2014 - 7 Night Exotic Western Caribbean (Tampa Roundtrip) Cruise on Carnival Legend
A very good week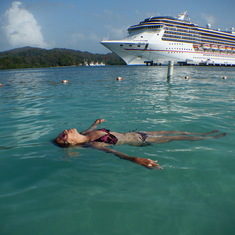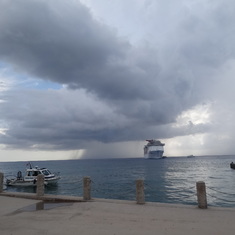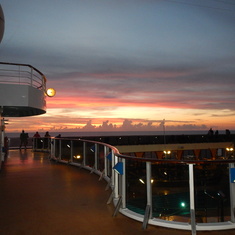 This was our first cruise. We have nothing with which to compare. Overall, we felt everything was well organized. Our balcony stateroom was very nice, clean and well furnished. It was comfortable. The service provided by all of the staff was very good. Staff was friendly and helpful throughout the ship and throughout our time.
Food was plentiful and good to very good. Service was very good throughout. We loved the staff in the main dining room. Not many food items that struck me as being really outstanding, exciting and tasty. All was good and satisfying. Like many hotel conference meals....good and satisfying but not the same type of special meal we might expect at a fine resturant. We ate at the main dining room every night and most lunches and breakfast on the Lido deck. We did not eat at the specialty resturant....the Steakhouse, which I hear from others was really outstanding. At $35 each for the upgraded meal experience, we just decided not to do it.
The shows in the main showroom were very good to outstanding. Piano bar and other lounges were nice and comfortable. The nightclub was not good at all. DJs and the crowd never really got going. My wife and I hoped to do some dancing but that didn't happen at all.
Formal nights weren't that at all. I brought my tux and wore it twice. I sat next to people in shorts and polo shirts. Less than 30% of men wore jacket and tie. Many women were dressed up but many were not dressed up.
The decks and public spaces were nice...sunsets amazing every night. We never felt overcrowded and could always find a place to sit and eat, or talk or lounge when we wanted to. The gym was really nice. We did not have spa services. There was a full menu of spa services available. We were a bit put off by the prices which were high resort levels and much more than we would spend at home for similar services.
The ports were nice. Excursions didn't leave time to shop and dine and just sit in the places we visited. Next time I will not schedule excursions so much. I kept a little too busy and will look to relax more and just sit, enjoy the music, culture, dance and flavors of the places we visit next time.
The shops and stores were very nice although we really didn't shop much on the ship.
We will cruise again and will take our young adult kids next time. I would take the Carnival Legend Caribbean cruise again, but because we live in California and plan to take the kids next time, we will probably cruise from a Southern California port and go to Mexico.