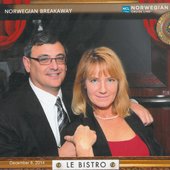 Traveled As:
Couple
Room Type:
Balcony
Experience:
2-3 cruises
2

out of 5
Verified Review | Ship: Norwegian Breakaway | Sail Date: Dec 07, 2014
My biggest disappointment with this cruise was with the ship the breakaway. its just not the level of luxury that I'm used too. The ship's public areas are not big enough for the 4000 guests it packs into the ship, all the finishing touches on the ship are pretty plain and inelegant. I was very aware of waiting for elevators, and the staircases were rather industrial rather than majestic. Even the grand circular staircase in the 3 level open atrium was not impressive when you were on it. The stair case is less than 6 feet wide, the atrium is very small, and there are no windows.
The biggest problem with the ship is the placement of the casino in the middle of the public areas. Lets face facts, casinos are ugly, the people that hang out in them are generally low class, and the worst part of all: they allow smoking. As the casino was center to the ship, in the middle deck of the the 3 deck open area, the cigarette smoke permeated all parts of the ship. Totally gross. Then when I was forced to walk through the casino, I've got to walk past rows and rows of overweight senor citizens with blank stares at their slot machines.
The other issue I had with the ship was the lack of big windows looking out. For whatever reason, this ship does not afford beautiful views from inside the ship. This may have been better in the front half of the ship, but that part of the ship was closed off unless you had a haven suite. There was no view anywhere on the ship forward from inside the ship without paying for the view.
My rating is based on my comparison of this ship to the norwegian gem, IMO a much better ship. Simple math should of been my first clue: The gem has 3 banks of elevators, for 2000 guests. The breakaway has 2 banks of elevators for 4000 guests and 3 more decks to have to service. There is absolutely no way that was going to work.
To show off the differences in elegance of the ships lets look at the theaters on both ships: the gem sat 1100 people with a balcony and side booths: no reservations, no sold out shows. the breakaway (with double the number of guest remember,) 800 seats, you must make reservations and constantly sold out shows. Now look at the two theaters: which one impresses you? Mind you the theater is just an example, but the rest of the trim levels on both ships were similar.
the Gem theater:
the breakaway theater:
I found it ironic that the breakaway prides itself on modeling itself after Manhattan, but has a mall style movie screen, whereas the Gem which makes no claim to Manhattan chic has a Old style NY Broadway theater complete with balcony and side booths.