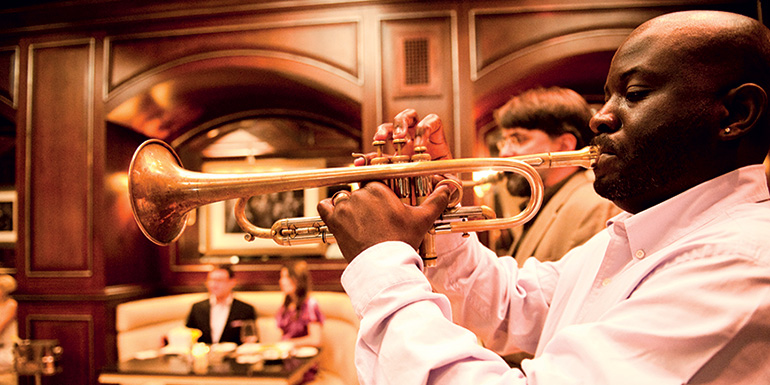 No city more elegantly displays its history than Charleston, whose world-famous historic district is home to more than 700 well-preserved architectural wonders, some dating back to early Colonial days. Located at the meeting point of the Ashley and Cooper Rivers, this town of sharp-suited locals, quality cuisine, and top-notch antique shopping now buzzes with creativity. With young professionals increasingly calling it home — and tourists more enchanted than ever — Charleston has never felt more exciting. Here's how to make the most of its new vibe.
Hotels
Splurge: Charleston Place – You can't get more central than this 440-room grande dame on Meeting Street, directly across from the recently restored City Market. While its namesake, Charleston Grill, remains a culinary must-try, the hotel's expansive pool, full-service spa, and lobby-level luxury shopping make it a true urban resort. All rooms include lace-lined furniture and Botticino marble baths, but the Club floor — with its lavish all-day buffets and excellent cocktail menu — is worth the indulgence. Doubles from $259.
Steal: Zero George – Veteran hotelier Dean Andrews — who originally opened Charleston Place two decades ago — has returned to town with a new property, the boutique Zero George. History buffs will swoon over the 18 rooms, which are spread among a series of historic homes and carriage houses. Doubles from $219.
Tip: Although the city's newer, full-service hotels offer everything from spas to luxury retail, Charleston is ultimately a historic town, and we prefer staying on historic properties. You can find a history-rich bed-and-breakfast through Historic Charleston Bed and Breakfast (the city's oldest reservations service), which offers access to numerous well-priced private homes, carriage houses, and apartments.
Restaurants
Breakfast: Glazed Gourmet – This King Street doughnut emporium was established in 2010 by Allison Smith, a Culinary Institute of Charleston graduate who, along with boyfriend Mark Remi, developed an indulgent array of types and flavors. The duo now fry up doughnuts ranging from the expected — traditional glazed and lemon frosted — to only-in-the-South varieties like peanut butter pie.
Lunch: Two Boroughs Larder – One-part cozy cafe, one-part ambitious gastro-pub, this restaurant lures foodies and hipsters with recycled-wood walls, simple metal seating, and hearty yet healthy fare. Owners Heather and Josh Keeler dish up instant classics, such as ramen noodles served with locally sourced Keegan Filion pork confit, along with fresh market greens doused with cider vinegar and studded with pickled raisins. If you like what you see — and taste — many of the handcrafted beers, cheeses, and charcuterie are for sale.
Dinner: The Grocery – Set at the entrance of buzzy Cannon Street in the newly hip Upper King Street district, The Grocery's spare, loft-like dining room serves farm-to-table goodness. Chef-owner Kevin Johnson's approachable yet ambitious menu is heavy on sharable, small-plate dishes, such as fried oysters in deviled egg sauce and a surprisingly sublime salad of shrimp, kale, pancetta, and radish.
Dessert: Peninsula Grill – The celebrated dining room at Planters Inn is known nationwide for its signature 12-layer coconut cake. If you fall in love with this rich classic when you're in town, you'll be glad to hear that Chef Graham Daily recently released his first book, "Peninsula Grill: Served With Style," which includes the recipe for this towering icon.
Tip: Not sure where to drink in this mixed drink-loving city? The Cocktail Club is a speakeasy-style boite serving handcrafted, retro-style cocktails in a brick-walled lounge and on an open-air terrace. Using infusions and cult-label liquors, mixologists pour grown-up drinks — such as a red pepper-spiked Antipasto Martini and a One-Night Yam, which is laden with sweet potato puree.
Activities
For everyone: Charleston City Market – Originally built in the early 19th century, the Charleston City Market reopened in 2011 after a meticulous 18-month renovation. Housed in a series of long, slim, red-brick halls, the market is home to dozens of small-scale retailers offering everything from culinary staples like rice and creole spices to handmade jewelry and woven baskets from the local Gullah people, island dwellers who descended from escaped slaves. Look for indie food stalls as well, including Charleston favorites like Caviar & Bananas cafe and the Cue-osk barbecue joint.
For families: Drayton Hall – One of America's oldest and best-preserved examples of Colonial-era architecture, this sprawling plantation complex, located 20 minutes outside of town, dates back to 1738, and the red-brick, Georgian-Palladian building is rich in aesthetic details despite its sparse furnishings. Set aside time to explore the acres of gardens and grasslands.
For couples: Palmetto Carriage – It may feel cheesy and touristy, but nothing says Charleston more romantically than a journey through town in one of its iconic horse-drawn carriages. As you glide past the city's elegant historic homes, churches, and public houses, your carriage driver can identify the Palladian-arched landmarks and Palmetto-lined streets.
For the adventurous: Flipper Finders – Sign up for a guided kayak tour on the scenic Folly River with local outfitter Flipper Finders. The daytime and sunset journeys, through brackish waters and thigh-high sea grasses, offer a solid workout, along with ample opportunities to view local birds and wildlife.
Tip: Held on Saturdays from April to December and set in historic Marion Square, Charleston Farmers Market lures nearly two dozen indie produce vendors along with organic bakers, spice-mongers, craft makers, and a handful of restaurateurs. With everything from fresh empanadas and rotis to sweet kettle corn and Filipino lumpia (fried egg rolls), the market offers the most global food selection in town.
Insider tip:
First established back in 1858 — and housed in its current beaux arts home since 1905 — the Gibbes Museum of Art continues to reign as Charleston's preeminent cultural institution, with more than 10,000 fine arts works, most connected to either the Southern U.S. or the city itself.