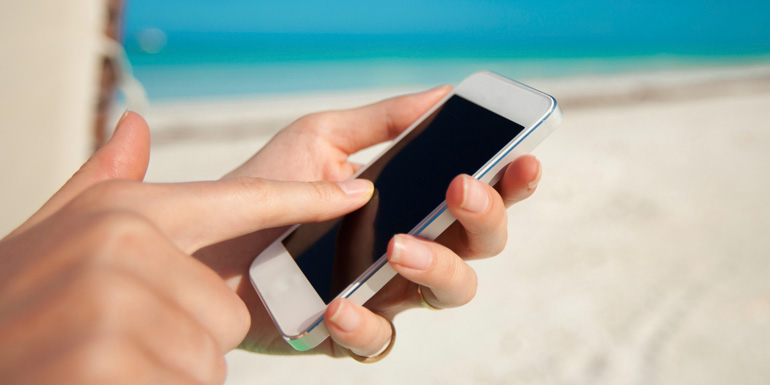 If you plan to use your cell phone on a cruise ship, it's important to know that once you sail away from the embarkation port, your cell phone will go into roaming mode, which translates into higher rates and extra fees. While it's impossible to avoid these charges altogether, there are ways to lessen the costs. Here, the cheapest ways to use your cell phone while you're at sea:
Check what your cell phone provider offers.
Major wireless providers have a cruise ship plan with lower rates than regular roaming rates. Contact your provider to sign up for the plan before you depart. AT&T, for example, supports all lines except MSC Cruises, while Verizon and Sprint support all of the major cruise lines. Visit your carrier's website for pricing information, and to make sure your phone is compatible.
Decide if you want a data, messaging, or calling plan.
Wireless carriers offer data, messaging, and calling plans for cruise ships that are similar to on-land packages, so you can pick the one that best suits your needs. Data plans cost around $25 for 100MB, and text messages costs as much as 50 cents per text. But, where carriers really get you, is on phone calls, charging $2.49 per minute.
Consider buying a Wi-Fi package onboard.
If you only need the Internet for your smartphone, turn off the phone's data usage and roaming so that your phone will only connect to the ship's Wi-Fi. Purchase a Wi-Fi package, which typically costs from 65 to 95 cents per minute. And don't forget, Apple's iMessage® service is sent over a wireless signal, so if you use that function to communicate with other iPhone® devices while connected to Wi-Fi, you can still "text."
Know how to post to social media via text.
You can Tweet by sending texts to your Twitter® account, which — depending on your Twitter habits — may be cheaper than a data plan. Just text "start" to 40404 and follow the instructions. Once finished, you can text your Tweet to the 40404 short code, and it will post to your Twitter account, no Internet needed. The Facebook® social network has a similar feature, allowing you to text your updates to a short code.
Download the Connect@Sea app.
This app uses the ship's wireless service, so you'll still have to buy a package. But the app allows for ship-to-shore, shore-to-ship, and onboard calling and texting. If you want to be accessible at all times, download this app to your Apple® or Android™ device. To use it, you must purchase calling credits, but that's cheaper than purchasing a calling and data plan from your provider if you intend to use your phone frequently.
Think twice about using your phone while off the ship.
If you buy the cruise ship plan from your wireless provider, those rates only apply when you're in international waters. Once you're within 12 miles of a port, the roaming rates for that country apply.
iMessage and iPhone are trademarks of Apple Inc., registered in the U.S. and other countries.
Twitter and Tweet are registered trademarks of Twitter Inc. in the U.S. and other countries.
Facebook is a registered trademark of Facebook Inc.
Apple is a trademark of Apple Inc., registered in the U.S. and other countries.
Android is a trademark of Google Inc.